FEATURED TOURISM CASE STUDIES
We've helped several tourism organizations successfully promote their regions, with everything from websites and apps to posters and billboards.
TOURISM ABBOTSFORD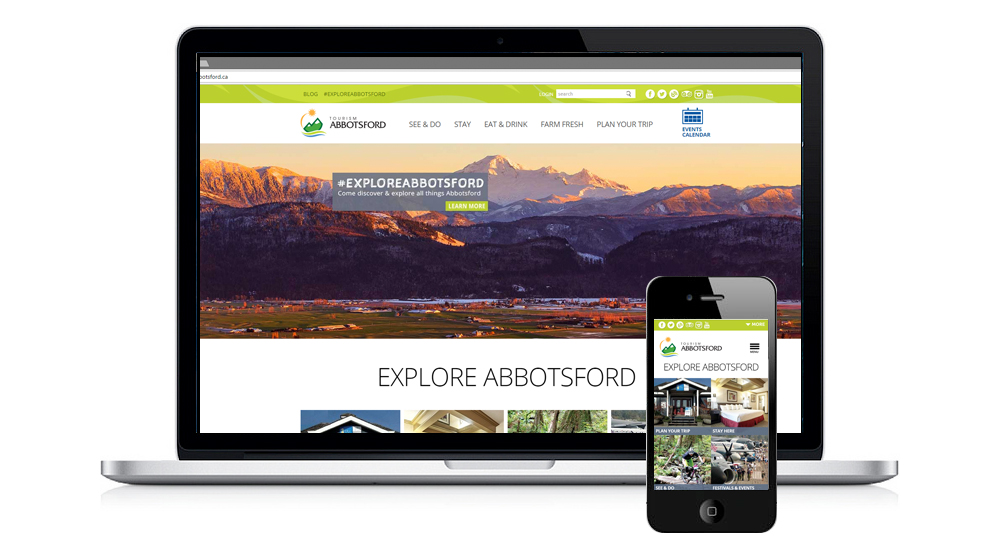 Challenge
Tourism Abbotsford, which represents more than 300 marketing partners, wanted to provide visitors a superior online experience. However, the website was convoluted, making it challenging for people to find information relevant to their specific needs. It also lacked consistent design and branding elements.

Approach
Our designers and developers condensed content and navigation into more meaningful, easy-to-digest categories. We also leveraged their main brand colours throughout the site to provide a consistent outdoorsy, fresh and friendly vibe, reflecting Abbotsford's culture. Large banners and picturesque images of Abbotsford were also added, along with dedicated areas on the home page to promote special events.

Results

The client reported excellent feedback from both the public and marketing partners. By showcasing Abbotsford more effectively, and organizing the website content and navigation to suit visitors' needs, the new-and-improved website is helping draw more people to the region.

______________________________________________________________________________________________________________________________________________________
TOURISM HARRISON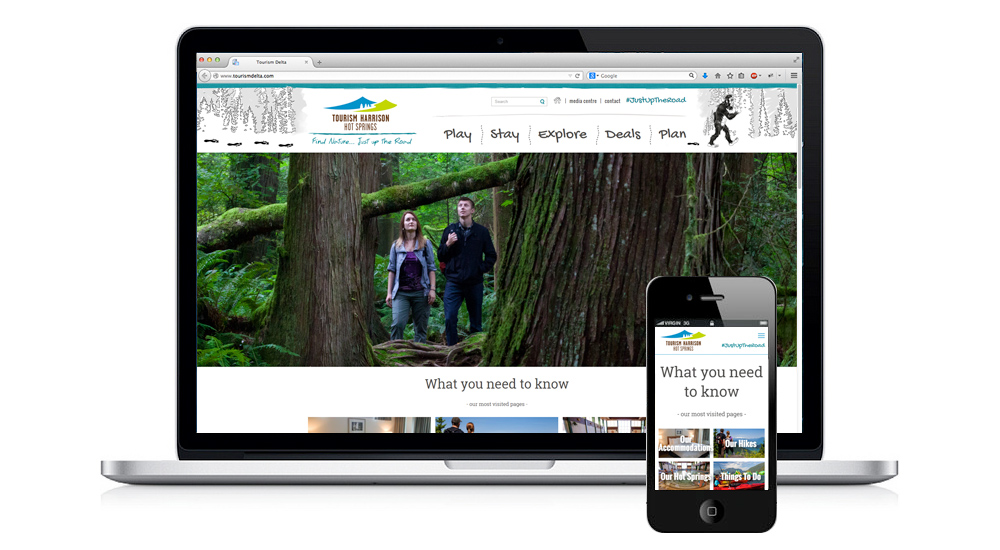 Challenge

Tourism Harrison wanted to boost its presence and better promote its attractions and activities to local and international tourists alike.

Approach
Our creative crew set out to help Tourism Harrison achieve its mission with a clean navigation, including Play, Stay, Explore, Deals, and Plan, along with strong visual cues for each main category. We also leveraged an array of scenic photos and illustrations to entice and engage visitors.

Results
The website is successfully promoting Harrison, its offerings and sites, as well as local businesses, with increased online presence and traffic. In addition to attracting tourists directly, the site's media section is helping draw journalists who write valuable travel features.​

___________________________________________________________________________________________________________________________________________________