Shopping Cart
HOOLAHOOP CMS™ offers a proprietary shopping cart application that is completely integrated with the main Hoolahoop Administration Control Panel.
The shopping cart has a base set of features. There are also optional features that may be added as required.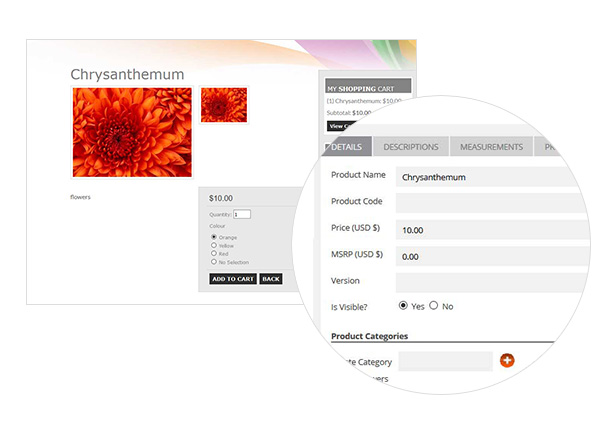 Basic Shopping Cart Features:
Create unlimited product categories and subcategories

Easily add/edit/delete unlimited products under each category

Add a description for each product - Summary description and detailed description (in popup or separate page with additional information and larger image)

Upload product images (the Shopping Cart will automatically create a thumbnail image)

A quantity can be allotted to products and if stock runs out, customers will be given a notification that the product is on backorder

Set price in CAD and USD

Full control of sale prices and promo codes

Ability to designate a product, or products, as a "Featured Product"

Add product options (example: multiple sizes, colours, etc.) with optional surcharge

Enter product dimensions and weights for shipping

Cart control panel ties directly into main CMS control panel for convenience

Brands can be created and assigned to products

Multiple options for displaying products to customers. Colours (only) customized to site

Cart Contents Summary Window. Colours (only) customized to site

Generates order numbers

Standard client side email receipt/confirmation. Includes addition of logo and company information, but not color or layout changes

Standard server side order templates. Includes addition of logo and company information, but not color or layout changes

Standard client side data collection form. Includes billing and shipping contact info

Offline payment processing. Orders are posted to secure server for processing offline
Advanced Optional Shopping Cart Features:
Integration of shipping information (vendor account to be acquired by client)

Customized front end of Shopping Cart module

Multiple cart languages

Download product from site. Example: music files, software upgrades, etc

Data Mining. Form customization for gathering client demographics and reporting features to accompany gathered information

Reporting System. Reporting/searching/sorting orders by various parameters

Custom templating for receipts/confirmations

Online payment processing
For more information on Shopping Cart implementation contact our sales team.